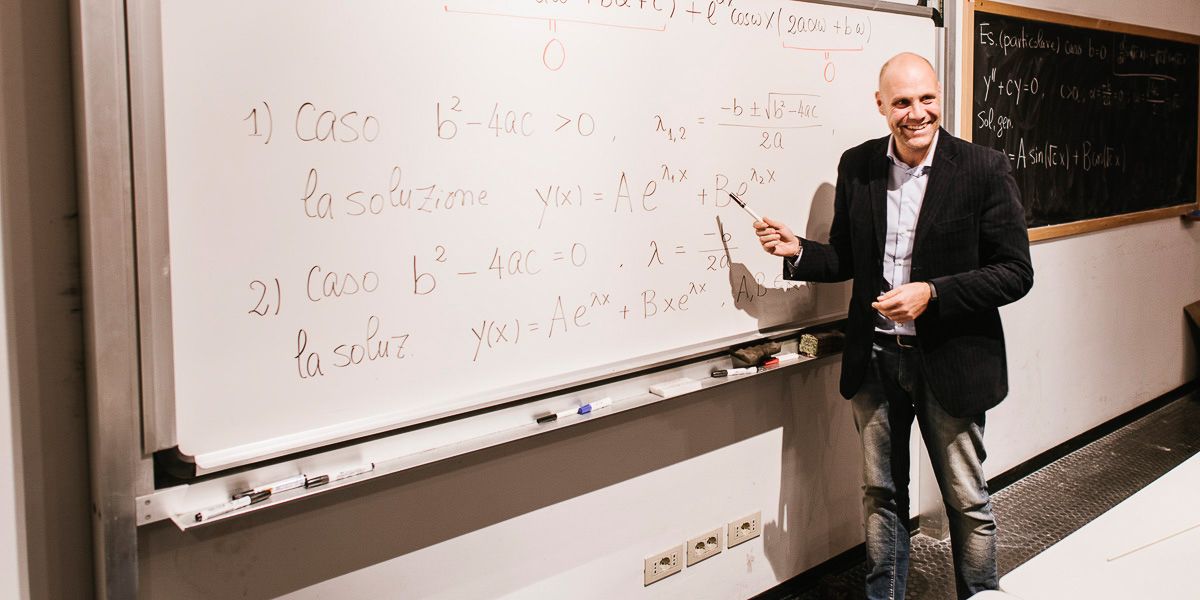 | | |
| --- | --- |
| Study location | Italy, Torino |
| Type | POSTGRADUATE DEGREE, full-time |
| Nominal duration | 2 anni. Il tipo di iscrizione (a tempo pieno o part-time) può essere scelto di anno in anno. (120 ECTS) |
| Study language | Italian |
Tuition fee

€2,800 per year

Per l'anno accademico 2023/2024 l'importo del contributo studentesco era compreso tra 156€ e 2.800€ all'anno.

Per informazioni sul contributo previsto per l'anno accademico 2024/2025 consulta la pagina dedicata sul portale di Ateneo. Alla stessa pagina potrai verificare come richiedere una riduzione o un esonero dal contributo studentesco per l'anno accademico 2024/2025.
Entry qualification

First cycle diploma (BA, Undergraduate diploma)

Per accedere ai corsi di laurea magistrale ad accesso libero è necessario essere in possesso di un titolo accademico di primo livello con durata legale di almeno 3 anni, di specifici requisiti curriculari, e di un'adeguata preparazione personale.

I titoli di studio esteri che danno accesso alla magistrale sono:

1) titolo di studio della durata legale di almeno 3 anni in Matematica o in area affine. Dalla carriera dei candidati si dovrà evincere l'acquisizione di almeno 105 CFU di insegnamenti di area disciplinare della Matematica (se la carriera non è espressa in CFU, i candidati dovranno produrre certificazione sui programmi degli esami sostenuti e sulla loro durata). I predetti candidati saranno esonerati dal colloquio nel caso abbiano acquisito il titolo finale con un punteggio di laurea uguale o superiore al 90% del punteggio massimo acquisibile. Negli altri casi è previsto un colloquio per accertare la personale preparazione sugli argomenti del Syllabus;

2) titolo di studio della durata di almeno 3 anni in area diversa da quella di matematica o affine. La Commissione valuterà la presenza dei requisiti curriculari per accedere alla laurea magistrale sulla base degli esami sostenuti. La Commissione potrà deliberare l'ammissione senza colloquio al corso di laurea magistrale in Matematica se la carriera accademica evidenzia una congrua preparazione sugli argomenti del Syllabus o la non ammissione in caso contrario. E'sempre fatta salva la possibilità della Commissione di sottoporre i candidati a verifica mediante colloquio che verterà sugli argomenti del Syllabus.

3) Tutti i candidati devono avere padronanza della lingua italiana accertata tramite:
- certificazione linguistica di livello B2
oppure
- colloquio in lingua italiana su piattaforma virtuale.

The entry qualification documents are accepted in the following languages: English / French / Italian / Spanish.

Se i documenti sono rilasciati in una lingua diversa da quelle precedentemente elencate, oltre all'originale è necessario allegare la traduzione ufficiale certificata.
| | |
| --- | --- |
| Territory requirements | Questo corso di laurea magistrale ha a disposizione 15 posti riservati a candidati non-EU residenti all'estero. |
Language requirements

Italian


La conoscenza della lingua italiana sarà verificata durante il colloquio di ammissione.
| | |
| --- | --- |
| Other requirements | A motivation letter must be added to your application. |
Overview
Il Corso di Laurea Magistrale in Matematica dell'Università di Torino si prefigge di fornire allo studente una solida preparazione con competenze approfondite nella Matematica pura e applicata.
Il percorso di studi si propone di far acquisire:
• capacità di astrazione e ragionamento;
• capacità nella modellizzazione matematica;
• grande flessibilità mentale, utile per affrontare lo studio di problemi complessi sia da un punto di vista teorico che applicativo.
Lo studente sarà inoltre stimolato a sviluppare curiosità scientifica sia per le tematiche matematiche che per possibili interazioni tra la matematica e altre scienze. Tra gli obiettivi formativi vi è inoltre lo sviluppo di capacità comunicative utili per l'insegnamento e per la comunicazione del pensiero scientifico.
Le capacità di analisi e sintesi sviluppate nel programma di studi, accompagnate dalle capacità di astrazione che caratterizzano la formazione matematica permetteranno al matematico di rispondere alle diverse esigenze del mondo del lavoro, sia per formulare modelli che per analizzarli con le più moderne tecniche informatiche, numeriche e statistiche. L'utilizzo delle tecniche matematiche avanzate apprese nel corso di studi permetterà inoltre al laureato di affrontare la vasta gamma di problemi di ottimizzazione che rivestono una sempre maggiore importanza nel contesto industriale e/o finanziario.
Career opportunities
• Analista programmatrice e Analista programmatore
• Matematico
• Matematico finanziario, Matematica finanziaria
• Ricercatore e Ricercatrice nelle scienze matematiche e dell'informazione
• Software architect
• Statistico e Statistica
• Addetta e Addetto al controllo di gestione
• Ricercatore